FREQUENTLY ASKED QUESTIONS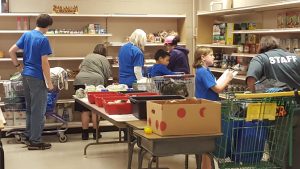 ---
What are the operating hours of the Pantry?
The Pantry is open:
Monday 12:00-2:00pm
Tuesday 4:00-6:30pm
Thursday 6:00-8:00pm
Saturday 9:30-12:00pm
Clients are able to shop by appointment only – this helps both the Pantry and clients maintain accountability and fairness. Emergency aid is available, but recommended only as a last resort. If you or someone you know is in need of assistance, please call the Pantry at 314.580.3138 to schedule an appointment.
---
Who is eligible to receive assistance from the ACFP?
Anyone residing in the 63123 area code OR an individual/family bearing a referral from an ACFP Member Church is able to receive aid from the ACFP if they are in need of food assistance. Please have ID and proof of residency (driver's license, utility bill, passport, etc) when coming to the pantry for the first time (for more info, see the FAQ: What should an individual bring to the ACFP when applying for aid/membership?). The ACFP does not seek to be exclusive, but this system has been put in place to ensure fairness to the needy in all areas of St. Louis, and to eliminate "double-dipping" from pantry to pantry.
For individuals residing outside of the 63123 area code, please call *211 or (314) 421-4636*, or point your browser to www.211missouri.org to find assistance in your area.
*Toll-free (800) 427-4626
---
What should an individual bring to the ACFP when applying for aid/membership?
Those seeking aid should bring a *driver's license with current address, or other *proof of residency (driver's license, utility bill, passport, etc). In addition to these items, the individual is also strongly encouraged to bring the following:
* Paycheck stub
* Social security card and/or numbers of ALL dependent family members
* Food stamp forms/paperwork (if applicable)
* Social service agency contact info (if currently working with one)
* Medicare/Medicaid documents
This information greatly expedites the membership application process, and ensures that the clients and families are receiving the maximum amount of aid for which they qualify.
---
My organization would like to have a food drive or donate to the food pantry – any ideas for doing something like this?
That's wonderful! Donations are so crucial for the ACFP's ministry. If your organization or church as already held its drive, please call the Pantry at 314.580.3138 to arrange drop-off (pick-up is sometimes available too, depending on our volunteers' availability).
If you haven't had a drive yet and are interested, we have gathered some fun and creative ideas from other organizations and churches who have held drives in the past here. Also, you may donate securely online through Paypal.  See our Donate page.
---
My organization is interested in sending volunteers to serve at the food pantry – how can we help?
There are plenty of ways to help at the pantry, and many kinds of skills are needed! We are always in need of individuals to work on the days the Pantry is open for client shopping, but we also need individuals with strong legs and backs that can help move heavy boxes of food around (about 50lbs) – if you are looking for a little extra exercise, this is a great work-out! You or your team can also help pick up food, or arrange emergency paks of food. Our greatest needs can change on a daily basis, so please check out our Volunteer page, email us, or call the Pantry directly to find out where you might be needed!
---
How do I find out what kinds of donations/food items the pantry really needs?
As for food/staple items, the pantry typically experiences a high demand for "entree" items (chicken 'n' dumplings, tuna, beef stew, etc…), paper products (tissue, paper towels, toilet paper), and laundry detergent. The Pantry almost always resorts to purchasing stock of these items for client needs.
---
I'd like my church/organization as a whole to know more about the ACFP – who do I talk to?
Please contact Executive Director through our Contact page. Our ED would love to chat with you, and is available to visit your church, school or other organization to offer a brief presentation and/or just meet with any interested individuals.
---
What is the ACFP Board of Directors?
The Board of Directors of the ACFP consists of a representative from each member church. Currently, there are 15 congregations represented on the Board (for a full list of churches and their representatives, please see the Affiliations page on our website).  The by-laws have been written and approved, and approval of establishing the ACFP as a legal entity was finally accomplished in early '09. The Board meets on the fourth Wednesday of each month, providing administrative leadership and guidance through the elected positions of the President, Vice-President, Secretary, and Treasurer, along with each church's appointed representative. We are extremely happy with the participation of our member churches and are looking forward to expanding both the ACFP and our affiliations with other churches in the Affton area.