Your Food Drive Can Make a REAL Difference!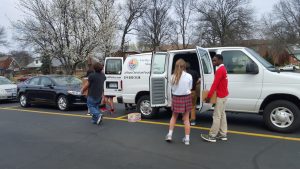 We can bring our van to you for a mobile, on-the-site food drive!
Click here to contact our Executive Director
to schedule your visit and help us FILL THE VAN!!!
DELIVERING YOUR FOOD DRIVE DONATIONS
Donations can be dropped off at the ACFP on the following days and hours:
Mondays 9am-2pm;
Tuesdays 4-6:30pm;
Thursdays 6-8pm;
Saturdays 9am-12pm.
Please notify the ACFP when the donations will be arriving.   This informs us so that we schedule the appropriate number of volunteers to handle the donations.
If possible, please "black out" the bar codes of the donated items with a Sharpie and a few thick vertical strokes.   This makes it unreadable (and thereby unreturnable).
SOME OTHER FUN FOOD DRIVE IDEAS
Clean Up with Competition
Setup a competition between grades/homerooms or departments to see who can collect the most food. The winner gets bragging rights.
Host a Movie Night
Charge a food item as the admission price. Take it a step further: ask a local movie theater to host it. Now you can get hundreds of people & hundreds of cans of food!
Have a Pajama/Dress Down Day
Petition your Principal or Pastor. Set a goal (such as, if half of the students bring in food, you get to dress down for the day).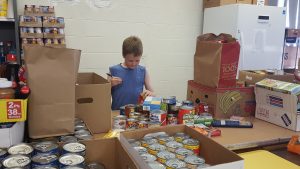 Can=Ticket
Got an event coming up? Holiday party or concert? Big basketball game? Make a food item the price of admission. Or create a raffle! Get great prizes donated. An item of food can be the raffle ticket price!
Get Your Teachers/Staff Involved
Columbus High School in Iowa did it. They put teachers on the school roof on a drizzly, cold day – seriously! Each donated item added a minute of lock-up time. The result? Over 6 hours on the roof!
Hot Chocolate/Lemonade Stand
Pick a good location and get fun people to work it. Pick a good time—like right in front of school in the morning or in front of the grocery store on a Saturday. Advertise it with posters a few days before: "Want some hot cocoa? It'll cost you a can of food!" Give extra marshmallows to people who give more.
Compete in Your Neighborhood
Pick a weekend day and have groups of friends compete to see how much food they can collect in their neighborhood in 2 hours. You'll canvas your whole town in no time (and probably get a good work-out too).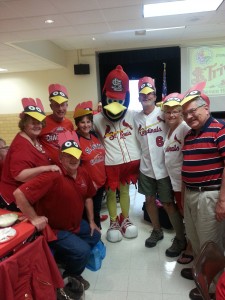 Theme Days
Make a theme for each day of the week & tell people to bring in cans that fit the theme, like Protein Monday or Carb Friday.
Rake Leaves or Shovel Snow
If you happen to live in one of the more brisk states, offer neighbors to help with yard work in exchange for food donations.
Get Local Businesses Involved
Ask your local grocery store if you can hold a food drive outside the store. As customers enter the store, let them know you'll be there to accept their donations on the way out. Make sure you have signs that clearly denote who you are & why the food is being collected.
Martha & Julia
You could ask people to donate a favorite recipe and all of the nonperishables items to make it. At the end of the drive you could make a small photocopied booklet of all the donated recipes as a thank you to all who donated!
THANKS IN ADVANCE FOR YOUR TIME, YOUR PASSION,
AND YOUR GENEROSITY!