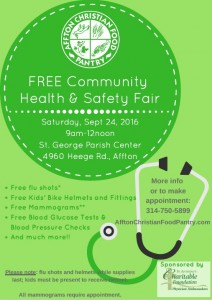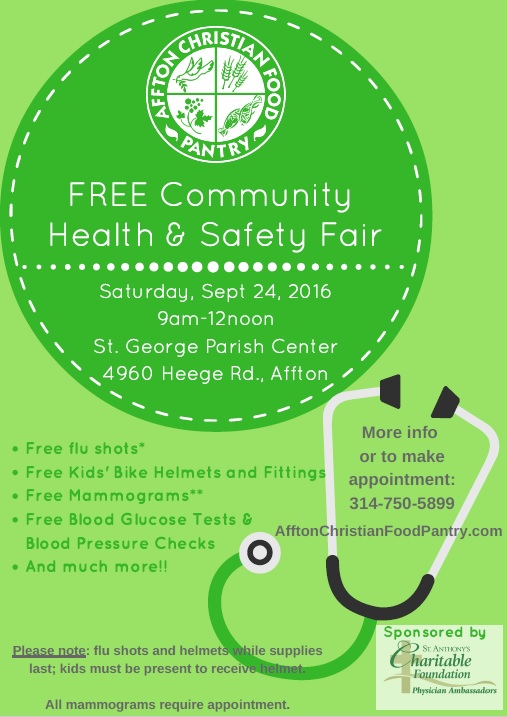 We thank St. Anthony's Physician Ambassadors for once again sponsoring our Health Fair.  
This year, our FREE Community Health Fair offers our clients and volunteers the opportunity to receive free flu shots and blood sugar tests, free mammograms, and so much more!!!
Please note:  We have 100 flu shots available, on a first-come, first-served basis.
The fair will take place on Saturday, September 24, 2016 from 9am-12noon in the St. George Parish Hall, located at 4960 Heege Rd, Affton MO.
This year's Health Fair will include information and/or representatives from the following organizations:
St. Anthony's Medical Center
FREE flu shots (for first 100 people ages 5 and up)
FREE blood pressure and blood sugar screenings
FREE Bike Helmets and fittings for kids!
FREE Mammograms
Nutrition Information & healthy recipes
American Lung Association
Alzheimer's Association
Arthritis Foundation
American Diabetes Association
American Cancer Association
Overeaters Anonymous
National Kidney Foundation
Osteoporosis Foundation
St. Louis County Dept. of Health
National Council on Alcoholism & Drug Abuse (NCADA)
Paraquad
American Heart Association
Don't miss out!  Come early so you can get your flu shot before they are gone!!!!
For more information,
click here
to contact our Executive Director.