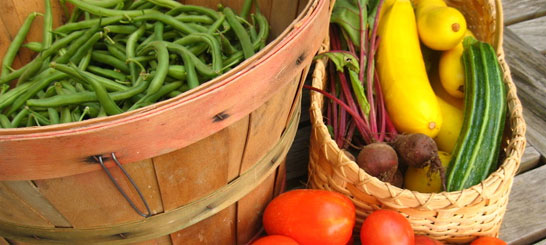 WHAT'S HAPPENING AT ACFP
---
Show Off Your School Spirit… at our annual TRIVIA NIGHT!
   
Saturday, September 17, 2016
Seven Holy Founders Parish Hall
6737 S. Rock Hill Rd., Affton
Doors Open 6pm, Trivia starts 7pm
Your canned food donations earn you FREE mulligans!!!
$20 per person, tables of 8
Click here to reserve your table or learn more!
---
FREE Mammograms and Flu Shots 
at our Community Health Fair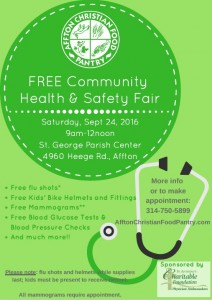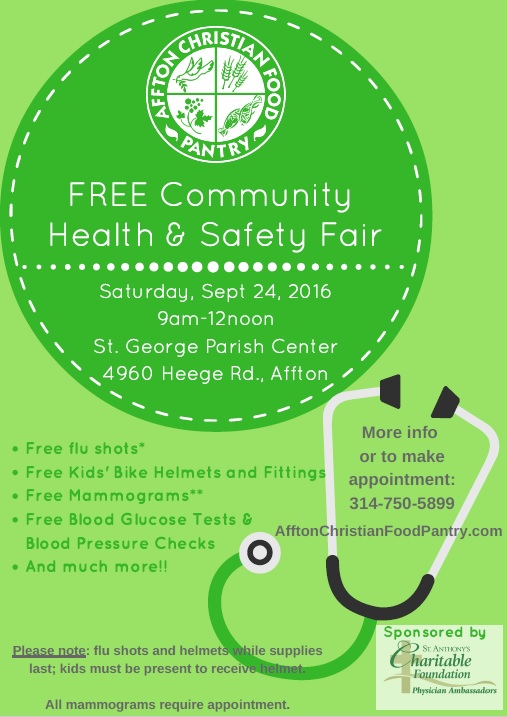 Once again, St. Anthony's Physician Ambassadors are partnering with us to provide a free Health Fair for all in the Affton Community!
Join us
Saturday, September 24, 2016
9am-12noon
St. George Parish Center,
4960 Heege Rd., Affton
---
Will you help us ensure that there is
"A Place at the Table"

for every hungry person in Affton?
Please consider joining our new monthly-giving program.
There is a level for every budget…
and every gift counts!
The Brown Bag Brigade ($10/month):  Giving at this level allows us to provide breakfast and lunch for school-aged children during school breaks
The Breakfast Club ($25/month):  This level ensures that we can offer a balanced variety of healthy breakfast foods, including cereal, oatmeal & eggs
The Lunch Bunch ($50/month): This gift  level keeps our shelves stocked with nutritious lunch options, including peanut butter and tuna
The Daily Diner ($75/month): Your gift at this level enables us to provide simple, complete meals for our families, including meat and vegetables
The Monthly Meal Deal ($100/month):  When you make this monthly gift, you help us feed a family of 4 for a month
Click here to join the club!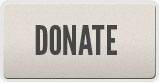 ---
THE ACFP MISSION
Live the Christian principles of our member churches by providing a continuous and reliable source of food and assistance to those in need in the Affton community.
WANT TO BE PART OF THE MISSION?    
ABOUT THE ACFP
The food pantry was dedicated on February 21, 2004, as a project of the St. George Conference of the St. Vincent de Paul Society. The Pantry doors were opened for business at 4975 Heege Road in Affton on the following Tuesday. Five families were qualified as members during the first week.
The operation continued with modest growth until July 29, 2006 when, in a meeting of seven area churches committed to the mission of the pantry, the Affton Christian Food Pantry was born. This action expanded the area served, the number of families that were being helped in addition to the size of the support group.
With steady growth, the Pantry soon found itself in need of a larger facility to more adequately meet the needs of its clients. Through the desire and commitment of member churches and donors, the Food Pantry was able to move to its current location at 4960 Heege Road, as part of the newly renovated St. George Parish Center. The Pantry offically opened its doors here in early 2010, with a beautiful dedication service and open house being held on April 18th, 2010.
The Affton Christian Food Pantry, now with 15 member churches, continues to adapt to meet the ever-growing need for food assistance.  The ACFP is a 501c3 non-profit organization which relies on donations from people just like you to feed those in need in the Affton area.